"The principle is competing against yourself. It's about self-improvement, about being better than you were the day before."
– Steve Young

We have the authority to move forward as a school district with the Long Range Plan Phase I! In this blog post, I'll share excerpts of recent communication efforts with respect to our Board of Education making an historic step forward on behalf of all students in the District. Briefly, what we're doing is shown below:
Investments in Northwood and Edgewood Middle School with costs not to exceed $75 Million
The use of up to $20 Million from the district's fund balance
The issuance of $55 Million of Alternate Revenue Bonds
The formation of a citizen advisory committee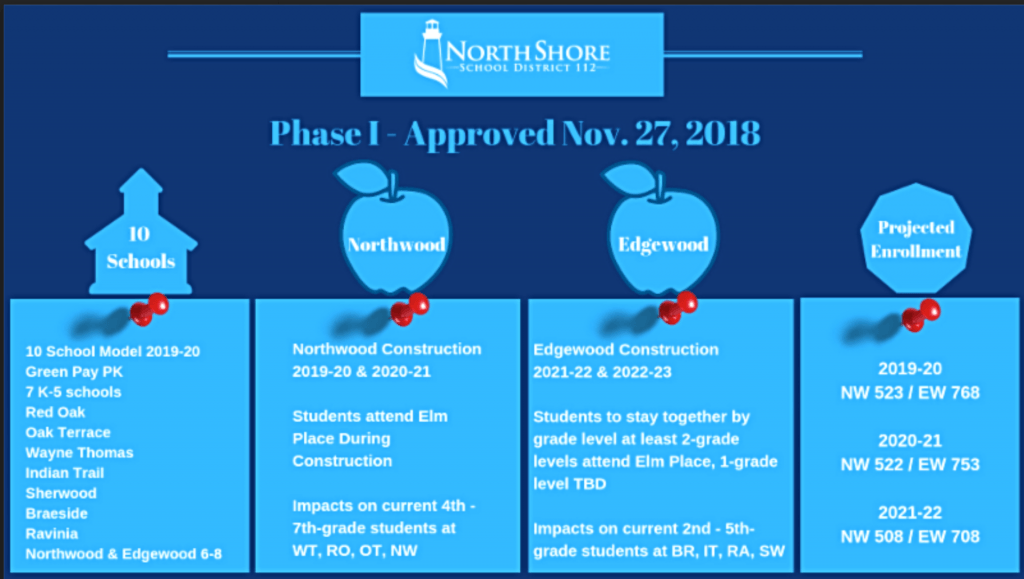 Sharing excerpts from a letter to the community following the Board Approval
Haga clic aquí para ver la versión en español
Dear North Shore School District 112 Community,
On Tuesday, November 27, 2018, our Board of Education made history — they voted to move District 112 forward with resources at our reach (with no direct tax increase in the Bond/Interest fund for construction) based upon the best information available (10-25 years of planning) to impact all students.
Approve Northwood and Edgewood Middle School construction projects with a total combined cost not to exceed $75 Million

Use up to $20 Million from fund balance (savings account)

Proceed with the sale of $55 Million Alternate Revenue Bonds

Authorize the superintendent to form a citizen advisory committee for construction projects.
From now to May 2019, the administration will be focused on opening up Elm Place as the temporary middle school location for Northwood's students in school years 2019-20 and 2020-21 (the next two school years). This means we'll be conducting information meetings (i.e. PTO groups, teachers, staff, students, community, neighbors, etc.). We'll be working with the architects and engineers to refine plans and cost estimates for the projects. We'll continue to Inspire…Innovate…Engage all students every day in every classroom…
We are not forgetting about our PK or K-5 schools; we'll continue to maintain, keep safe, clean, and provide the highest quality education that we can. Subsequent phases of community engagement, Board direction, and construction projects will take place as they would, and as they do, in school districts around the nation. One step at a time we will upgrade, modernize, and improve the conditions in which we facilitate learning…
We will continue to communicate, seek input, make plans in the best interests of students, and work to ensure that North Shore School District 112 provides high-quality educational access for all students. Stay up to date with the Long-Range Plan at the Long-Range Plan web page.
Thank you for your flexibility, support, and communication through the upcoming changes and transitions.
With regards,
Mike
From our Press Release
"With the passage of Phase I of the Long-Range Plan, the district now has the opportunity and great responsibility to achieve excellence for all students starting with investing in modernized learning facilities at the middle schools," said Michael Lubelfeld Ed.D., Superintendent of Schools. "I would like to extend a special thanks to our students, staff, community members, the long-range planning committee, and board of education for input, support, and leadership, which has made approval of Phase I possible. Your continued engagement will only be more important in the months and years to come. Let's get to work as the Future is NOW!"

The tentative project timeline overview and draft concept drawing information is as follows: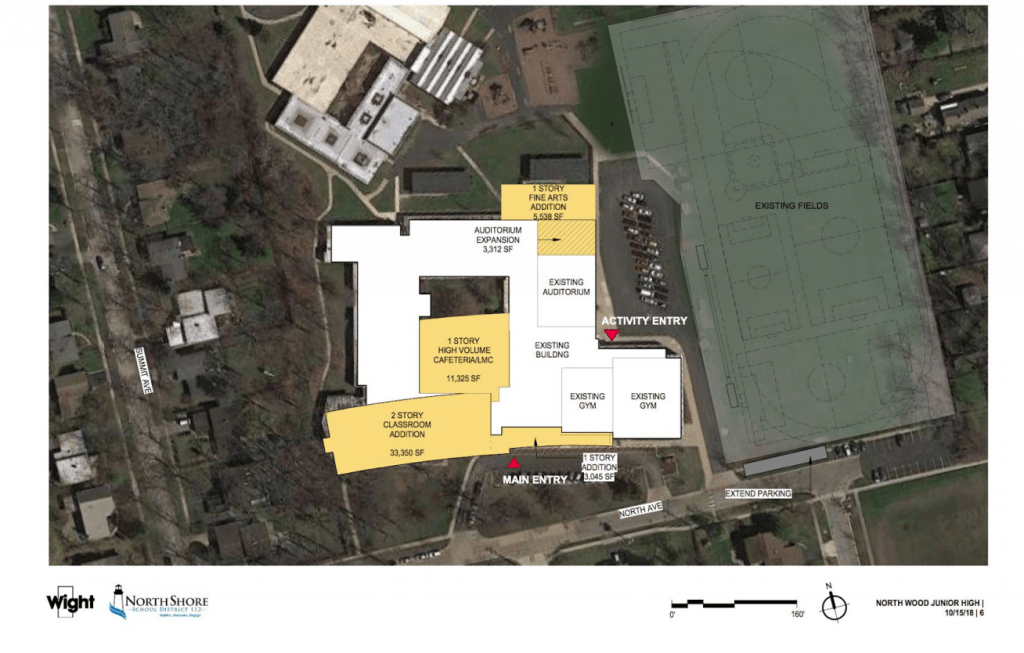 NORTHWOOD:
Bid on construction projects – by end of May 2019.

Close Northwood for construction – Summer 2019.

Start Construction – September 2019.

Transition Students to Elm Place Middle School.

Completion – January 2021.
EDGEWOOD:
Bid on construction projects – by end of October 2020.

Start Construction – Spring 2021.

Close Edgewood for construction –  Summer 2021.

Transition Students using Elm Place – TBD

Full renovation and upper floor additions – through summer 2022.

Review overall schedule to determine completion for Aug. 2022 or winter 2022.
FUTURE PLANNING NEEDS:
Review dollars, funding, and elementary school needs in the 2022-2023 school year (Planning Year)

Re-prioritize needs and appropriations for 2023 and beyond
"I would like to thank Dr. Lubelfeld and his administration for recommending a comprehensive vision for the future of District 112," said Eric Ephraim, NSSD112 Board President. "I am proud to be part of a board that approved a significant investment in our schools.  These improvements will positively impact the learning experience for all of our students. This is an important milestone for our district and our community."
Our aim is for regular, transparent, clear communications!
Click here to read the Long-Range Plan approval press release  
Click here to read the full Long-Range Plan Final Report
Click here to view "The Recommendation" a video that offers an overview of the plan

Visit www.nssd112.org/Long-RangePlanning for more information
Board approves Phase I — #112Leads