"There is no passion to be found in settling for a life that is less than the one you are capable of living."
– Nelson Mandela
In my adventures in leadership, and in my travels to other school districts, regions, states, and nations, I'm reminded of my "why". My purpose as a leader is to advocate for school children.
Beyond the articles I publish, books I write, presentations I make, meetings I lead or attend,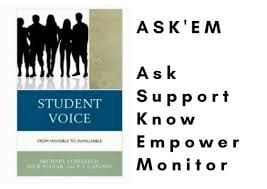 the bottom line and the "why" for it all is to advocate for and to support students. Many years ago I formed my educational philosophy — over the many years in public education I have refined, reflected, reinforced and remembered my philosophy and my "why".
The opportunities I have are incredible and I am humbled by the support and guidance from so many mentors, coaches and friends who help me become a more impactful leadership each and every day. My mission and drives and values govern my work. Who I am, from where I come, and why I'm here all meld together to impact and imprint upon those I am called to serve and those I have the privilege to serve.
My school district has a mission, our schools have missions, the partner companies with whom we work have missions. Often I ponder my mission. I work with leaders all over the state, nation, and world to help them form and reform their missions. Mission/Vision/Values/Goals – these are blueprints

and components of excellence. School Boards work with superintendents on District and community mission, vision, values and goals as a normal course of governance and leadership. At the end of this blog post I offer an idea of my mission as a leader.
As a public school superintendent I have an unusual job, out of the 300 million Americans, I am one of less than 15,000 public school superintendents of schools, so there are not too many other people who actually do what I do for a living. Many of us in education are called to serve and are called to teach and are called to lead. Like my colleagues and peers, I enjoy my job, work harder to be better every day, and I often find the work/life balance to be an elusive goal. Often people ask what, in fact, do I do every day. Am I a teacher? Am I a principal? Am I a counselor? Am I a mediator? Am I a transportation director? To a certain extent … yes to all of the above. I would like to believe that my role is more like an orchestra or band leader than as a "boss". When I visit with youngsters they often
suggest that I'm the "boss of the principals"; I respond that while I do get to tell the principals what to do, I'm more of their friend and partner in making sure we take care of the teachers, staff, and students every day. My hope, aim, and mission is to support and nurture and sustain environments of excellence. As I have written in other blog posts and publications, I measure excellence with multiple metrics and benchmarks of success. To me, like many others who have led before me, and as Peter Drucker is credited with: "Culture eats strategy for breakfast".  We leaders will get to implement strategies and tactics and plans and goals but with positive culture we get to lead — with positive culture we get to see success — with positive culture we can accomplish anything we set out to accomplish.
So to the question of what do I do for a living, I guess I would be proud to say that I orchestrate positive cultures in and around schools and communities.
As a public school superintendent in Illinois, I am one of 850 leaders who work every day in a state with a history of supporting public schools since the 1820s and a mindset at times and a structure set at times that appears to be stuck in the 19th Century.
As I contemplate and write about my "why" and as I work with the Board of Education that selected me for hire to lead their school system of 4000 students, 500 employees, 10 schools and a legacy of excellence, I'm reminded of my calling to serve and my passion to support educational access for ALL students with supporting ALL staff in their quest to make positive impacts on students. Back to what does a superintendent do … she or he is the communications person, curriculum person, financial person, civic engagement person, chief advocate for children person … the list goes on and on. Ideally the superintendent has a team or staff of outstanding leaders (like I do) who can handle the day to day responsibilities, but, at the end of the day, like Harry Truman is credited with saying "The Buck Stops Here". It's the responsibility of the superintendent to maintain and sustain a productive and professional relationship with the Board of Education.
A cornerstone in American democratic tradition is the local government. In Illinois school board members are unpaid elected volunteers who selflessly serve their communities as the stewards of the public schools (assets, liabilities, decisions, taxes, etc.). Their job responsibilities are awesome – the rewards are many yet the time and challenges are many too. In Illinois most Boards have seven members and the Board is supported by the Illinois School Board Association. In addition to the seven member Board that employs the superintendent, other elected officials have major influence on the operations of the school district and the community education. The superintendent, therefore, works with the mayor (and staff), the other local governments (health department, county, park district, police, fire, etc.). The superintendent also works with the state Board of Education and the local senators and representatives.
As I review lists of proposed bills in the Illinois General Assembly I ask the internal question about the impact — will this proposed bill advance the cause for all children? Will this proposed bill advance the ability for school leaders to support education for all children? Will this proposed bill cause happiness and new structures for the students we serve. Sadly, to those questions, lately, most of my internal dialogue reveals that, no, the proposed legislation will not advance productive education … so in my role as "advocate in chief" for the school District, I dutifully reach out to our state representative and state senator in an effort to share the superintendent's view on proposed bills. All from the lens of my mission – for ALL children to have equitable access to excellent educational opportunities.
Every few years Illinois has municipal elections. This month there were school board and other municipal elections. In my School District, two long time Board members retired from Board service and one of the incumbent members ran for re-election. The incumbent Board member and two of the three non-elected candidates were elected (the results are unofficial until the end of the month, but this is the prediction based upon preliminary results). So with just about one year into my five year employment contract with the Board of Education, it's likely I will start year two with two new members of the Board.
Board of Education/Superintendent relations are essential for the positive, productive, and professional implementation and sustainment of culture, mission, vision, values, beliefs, and goals for all students and all staff. I'm proud that the Board I serve is committed to professional growth and learning. I'm fortunate that the Board I serve is dedicated to student and staff learning and community engagement and success. I'm happy that I get to serve for and with a Board of dedicated, selfless volunteers who are drawn to serve for the betterment of their community and the children we have the opportunity to teach in our classrooms every day!
Since October 2014 with my good friend and professional leadership partner Nick Polyak, we have been moderating a chat on Twitter called #suptchat. This once a month professional development opportunity addresses topics of interests and concern for superintendents, educators, educational leaders, policymakers, and anyone with an interest in the topic. Twitter is
free and public and open to all. This month we focused on Board/Superintendent relations. Part of my mission is to connect leaders with and to one another so that we can enhance and strengthen the work we do on behalf of students, teachers, and community. The archive of the most recent chat is linked:
So, in closing this blog post, I'll end with a response to the question: "What's my mission?"
My mission is to create leadership opportunities for others so that our society may be enriched through learning, personal and professional growth, and support and improvement for our free way of life and to support the advancement of a globally connected and mutually respectful world community.
---
Archive of #suptchat on Board/Superintendent relations:
What does a superintendent do? What's my mission?