IASA Global Service Trip 2021-Blog Post 1
Cabarete, Puerto Plata, Dominican Republic
Cabarete, Dominican Republic 1,851 miles from Highland Park, Illinois
October 2021
As our world heads out of the restrictive nature of the recent years, and as our school district re-energizes and re-commits to student educational access and excellence in education for each child, every day, I'm beyond grateful that I have had the opportunity to join a recent trip to another country to learn the culture, history, sociology, teamwork, global interconnection, education (of course) and much, much more. Together with a member of my school district's Board of education, and with leaders from all across the state of Illinois (Cairo, IL to Zion, IL and all parts in between), our lives were forever changed and opportunities for students across Illinois and throughout the Dominican Republic will be impacted for years to come.
In 2018 thirty strangers agreed to participate in international service, culture, and leadership trip called the Illinois Association of School Administrators (IASA) Global Service Trip. The trip was delayed twice due to the impact of the global pandemic. Thanks to incredibly generous and supportive business partners, the cost per person was minimal, and thanks to an international educational tour company, the world-class tour, trip, adventures, experiences, reflections, expertise, travel, fellowship, new friendships, shared love for our calling to serve and to educate, and the overall service-learning was among the best I have experienced.
Understanding I will likely leave out details, miss a detail or two or three, to the degree possible, I'm making an effort to share in this blog a documentary accounting and "editorial" in this blog post and some follow-up posts as well.
To start, we all met together at a dinner at a restaurant outside of Chicago, IL. As a reminder, we are each superintendents, board of education members, school administrators, and we represent all areas of the great and diverse state of Illinois. We had no idea the depth of communal care, comfort, support, experience, joy, reflection, and leadership upon which we were
each embarking.  We each had our own motivation for applying to join this trip. Our partners at the Law Offices of Hodges, Loizzi, Eisenhamner, Rodick, & Kohn (HLERK), International Contractors Incorporated (ICI), DLA Architects, AXA, and SPM Architects all took a significant leap of faith believing in the powerful vision of my good friend and the Leyden High School Superintendent Nick Polyak and his vision for impacting the world, education in Illinois, superintendent-board relations, and so much more — words cannot thank the business partners for their support and investment — and genuine on the ground experiential learning and partnership. Life-long friendships were made on this trip across the Dominican Republic!
Service-learning changes lives forever, after having the incredible opportunity to have served on several trips over the past few years, I know firsthand how powerful the hands-on learning and engagement of people make a lasting impact and serves to support a legacy of global connectedness and growth opportunities. Hat tip to the AASA for allowing me to join in on the LifeTouch Memory Mission in 2016 to the Rio Grande/Constanza, Dominican Republic area with World Servants, and hat tip to my friend and fellow Illinois Superintendent Jim McKay for two trips to San Juan, Puerto Rico (so far) for service learning, educational partnership, teacher exchange, training, technology,  hands-on construction and more! On one of these adventures, I had the opportunity to bring my son with me; blending work and home, blending professional and personal, wow – seriously impactful. My son and I will clearly enjoy many more memories and experiences in the future.
Back to this 2021 trip, …Me and my Board member (or my Board member and I) learned together, experienced together, built together, laughed together, and most importantly, we planned together visions for students in our school district to experience life-changing service like we did. I've reached out to the district and school administrators back home (while in the DR) to start the thinking process for a legitimate investment in our students in partnership and travel as an adjunct part of the curriculum. Our motto in North Shore School District 112, https://www.nssd112.org/ is Inspire…Innovate…Engage. This trip to the beautiful island nation of the Dominican Republic was highly inspiring, we are beyond motivated to bring these learning opportunities to our students, and we were engaged from the dinner meeting the night prior to our departure.
A few years ago I posted a reflection post about a series of reflections (I see writing as an intimate and public way to express myself, communicate my thinking, and share professional experiences). See link: Reflecting on Global Service – 3 Year Anniversary of Dominican Republic Memory Mission Trip – This is the blog from Public School Superintendent & Author Dr. Michael Lubelfeld
The incredible company Education First,  EF Education First – Global SIte (English), sent us their "A-Team" of leaders and they truly have outdone themselves in terms of an authentic set of learning, leadership, service, opportunity, and true business/education vision and planning opportunities for children. Thank you, Brian, Alex, Claire, Gabriel, Hector, and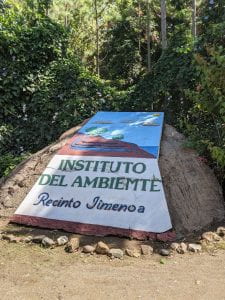 everyone in the Dominican Republic on the ground for their amazing leadership, expertise, camaraderie, fellowship, friendship, vision, and overall and genuine professionalism. This was a fantastic experience all around. Thank you also to Angel for day and night support!!
We literally visited and traveled through the entire length of the country traveling from the south to the north. We visited urban, rural, and coastal communities. We saw both the Caribbean and Atlantic coats. We visited cultural and historic sites, geographic sites, the two largest cities, public school sites, private school sites, after school clubs, "NGO" not for profit areas committed to environmental sustainability, social justice, education, future-focused support and so many opportunities for post-trip partnership and service and support. I will be sharing the information and "leads" with my local Rotary Club, Leadership Team, Board of Education, and community leaders.
After we arrived in Santo Domingo, the capital city, we visited a Coral Reef and Mangrove reforestation NGO on the Caribbean Sea prior to our long drive north, through the center of the island towards Jarabacoa. We were immediately taken in by the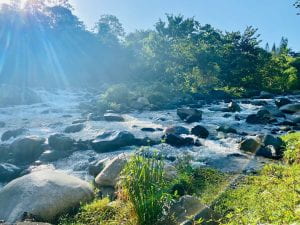 immense natural beauty of this island nation. We were also starting our journey and adventure into the Dominican Republic's commitment to environment study, preservation, sustainability, and education. The sense of community was powerful and we were just getting started.
The overall journey from Santo Domingo to Jarabacoa is 90 miles/144 kilometers, and by motorcoach with a quick visit to the Coral Reef/Mangrove restoration center (and the Caribbean beachfront), it's a trip of around 3-4 hours (with a stop on the way for a rest and some coffee). We were at O'Hare International Airport in Chicago at 3:00am for a 5:00am flight to Miami, Florida, then after a short layover we headed to Santo Domingo, Dominican Republic (journey of 1,936 miles/3,116 kilometers), we arrived in Santo Domingo at 12:40pm local time (O'Hare is CST and Santo Domingo is EST). The journey was long, our anticipation was high, our anxiety was being eased by actually being on the ground and for having enjoyed dinner the night before as well as a long travel journey. But the learning was just getting started.
On our next visit, we went to the Environmental Institute, formally called Instituto Técnico de Estudios Superiores en Medio Ambiente y Recursos Naturales in Recinto, Jimenoa. At this impressive, Ministry of Education funded school, founded in 1968 and refurbished within the past few years, we learned a ton about reforestation efforts, trail building and preservation, the
connection of the Dominican Republic and Haiti, and the overall impact on the preservation of nature's greatness. At the institute, students are 18-25 years old, the integration of genders was recently added and the federal government funds and runs this impressive, two-campus higher education institute. Topics we addressed at the briefing included conservation, tree nursery, forestry, agriculture, trail building, learning, service, and education. The impact of climate change is real and the need for a larger-scale focus on sustainability is everyone's responsibility. Here in the Dominican Republic, there are scholarships for students from Haiti in an effort to positively impact the entire island of Hispaniola which both countries share. One of the service projects, hands-on learning for our leadership team, was in the tree nursery and the other was in the nature trail. This institute plants more than 750,000 (seven-hundred fifty-thousand) saplings across the island each year! The impact is beyond huge and lasting.
I was part of the trail restoration project. With sweat equity and really intense physical labor, our team cleared out tree stumps, restored a number of benches and a table (in a clearing on a nature trail at the Institute) our team was really proud of the physical labor and task completion. With natural leadership and skills emerging from team members, and under the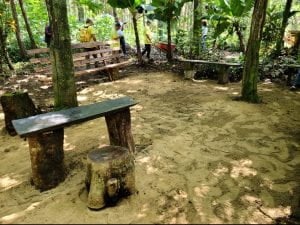 supervision and leadership of our Dominican hosts, together we created a nice and comfortable oasis in the trail for a meeting space, thinking, reflection, and ambiance of the beautiful and serene nature trail on one of the campuses.
The tree nursery group learned how to take "baby" trees and plant, clean, separate soil/plants, and recreate the initial steps in the tree nursery growing and sustaining process. Education First (EF) formed relationships with institutions that thrive on their own, but who also benefit from volunteer service and support from student groups, educator groups, and others, to complete their mission-driven work.
It's really hot in the Dominican Republic— even in October — it's 90 degrees, powerful sun, intense heat, and we're not all physical/manual laborers by day. So, the work was really intense and we had sweat on top of sweat and we drank more water
than we normally drink! It was also highly rewarding to impact this institution in such a positive way. The service-learning projects are high-intensity and powerfully related to what our students will do as well. In addition, the concepts of inter-dependence are built upon each other at each step.
Following this intense and novel manual labor, our hosts from EF allowed us to experience a geographically beautiful and one of the highest waterfalls in the Dominican Republic. We visited Salto Jimenoa Waterfall,  in Jarabacoa. This was about 35 meters, or 115 feet, tall. The walk to the "watering hole" at the foot of the waterfall was far easier on the way to the falls vs the way back (climbing back up was tough). We were so hot, really stretching muscles we don't normally use, an intense pride in
task completion due to the adrenaline and pride in service we were walking around with since we boarded the plane in Chicago. The visit to this waterfall, impressive on its own — tall, loud crashing water, awe-inspiring geography, and much welcomed "cold water". Once we entered the watering hole we felt the wind — forceful and inspirational wind — we then headed towards the actual waterfall itself. The massive, natural force driving this water from the mountains — this waterfall invited us in — we each felt a sense of invigorating relief at the entrance with the cold water, the cold almost mystical wind; but words cannot describe the feeling of inspiration upon entering the area against the rock behind the crashing cascade of water! The force reflected our powerful desires and force to serve, learn, and accomplish all we can for each child, every day. We were in paradise — a unique and foreign world compared to our middle-American realities.
Words I wrote in my journal were: "work hard, serve, learn from collaboration, sweat equity, the satisfaction of contributing part to whole, symbolic of the overall trip, aim each of us as global citizens are parts contributing to the whole – cultural, local".
Each meal was authentically Dominican. We ate rice, beans, chicken, beef, plantains, yucca, fruit juices, fruit, banana, truly outstanding and truly local cuisine.
Each cultural experience was a tribute to our Dominican hosts, the beauty and richness of the people, and representative of the value of travel, touring, meeting other people, gaining experiences through other people's lenses, learning and respecting the locale. We were not there on any mission to "help" or to "save" — we were present in respect and mutual admiration to learn, lead and serve shoulder to shoulder. We were not there to show who we are and what we do — by embracing our hosts and by opening our minds and hearts, we showed who we were and who we are. On our journey we learned about Bachata, Merengue, Salsa, yes, we superintendents danced (or tried to dance) with the Latin rhythm and beats in our hearts and our souls. Our dance teacher was really patient.
My next post will highlight our visit to Santiago (the 2nd largest city) visiting the historical district and learning about street art history and culture. I'll describe the visit to the artisan area in Moca where we learned how to use pottery and bricks for stoves that help reduce the use of wood and lumber by 70% in the mountain areas, our adventures on the north coast of Cabarete, the Dream School and Inspire DR.
Thank you for reading the first post about half of our journey in the Dominican Republic!
Stay tuned for the rest of the story.
Reflections from Dominican Republic – IASA Global Service Trip