Post 2 -IASA Global Service Trip – Dominican Republic October 2021
This is the second post describing and documenting a global service trip I had the opportunity to attend in the Dominican Republic with 30 colleagues. Each member of this international travel experience was a school superintendent, school or district level administrator or elected member of a Board of Education. Under the exceptional guidance and care of our team from Education First and the Dominican people, we led, learned, served, grew, opened our minds and hearts and set the foundation for student learning and teacher learning opportunities at home.
In this blog post, I will share the rest of the story that was started in the first blog post about this incredible set of adventures and experiences. As I left off in post #1,  this post will highlight our visit to Santiago (the 2nd largest city) visiting the historical district and learning about street art history and culture. I'll describe the visit to the artisan area in Moca where we learned how to use pottery and bricks for stoves that help reduce the use of wood and lumber by 70% in the mountain areas, our adventures on the north coast of Cabarete, the Dream School and Inspire DR.
Thank you for reading the posts about of our journey in the Dominican Republic! Below I'm showing some photos from the Environmental institute I wrote about in the first post.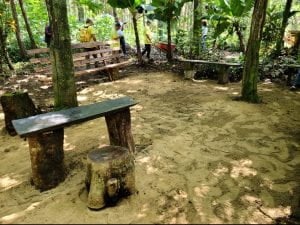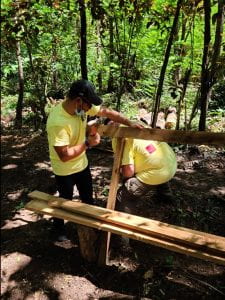 The journey from Jarabacoa towards Santiago afforded us the chance to visit with a local artisan and engage in several workshops and hands on learning experiences at a pottery shop. The artisan was located in Moca, Dominican Republic, and at our briefing we learned cultural and historically significant information as well as sustainability and direct impact on rural Dominican homes as well as the greater environment, health, and wellness.
The cultural lessons centered around a faceless doll. This was a special art project that originated in 1977. Essentially, in a nod to the complex and mixed ethnic and cultural and racial ancestry of the Dominican people, with 2% Taino (native peoples), 23% Spanish, and 75% African heritage and DNA in its citizens, the artisans wanted to make a statement about the pride and complexities of the mix. Therefore, the idea of the Faceless Doll of a Dominican women was born. A proud, interesting, and creative example of telling a highly complicated and high level concept (ancestry, heritage, etc.) in a clay doll. Beyond our new learning and appreciation for the progression of "who am I" and "who are we", we actually had the chance to make a doll (though it's really not easy! And the art teacher was as patient as anyone could be with our amateur creations).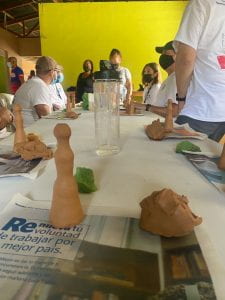 In addition to the Faceless Woman project, we also received a briefing on the stoves in the homes of folks living in the rural, mountain areas and the toll on health, especially for women and children that their old, traditional stoves were taking. For example, cooking indoors with wood, fire, and no chimney or ventilation system led to severe impact on trees (wood for cooking), severe impact on lung/respiratory health of women and children (traditionally in the home while the men go in the fields and work) and skin issues due to the smoke and its carcinogenic properties. So at this pottery artisan production center we visited in Moca, they also make bricks for new rural stoves that use bricks and chimney design to ventilate the toxic smoke, and it has benefits on health, the forest, and lungs! These brick ovens reduce the wood usage by 70% — this is already having a positive impact on the island.
After we visited Moca's rich artisanal history, and experienced projects of value and of meaning for us and for future student groups, we headed to the nation's second largest city Santiago. In Santiago, there is a recently restored historic neighborhood with incredible street artwork. I'm sharing a bunch of photos from this visit – I feel that the imagery is far more powerful and descriptive than my words can be.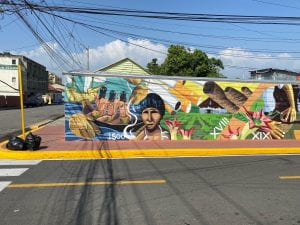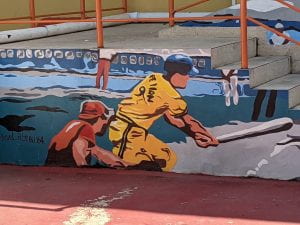 This visit to Santiago shared for us urban redevelopment in the historic district as well as a visual representation of culture, history and the society over time. The streets on which were were walking are centuries old and have stories of their own.
From Santiago we headed into Puerto Plata on the north coast of the island nation. Our destination was Cabarete. Cabarete is a culturally significant city with a cosmopolitan and international flair. Cabarete and the Puerto Plata coastal area was the original spot for Dominican tourism prior to Punta Cana's creation on the southeast side of the island. Cabarete is known for international visitors and "expats" as well as kite surfing and surfing on the Atlantic Ocean.
In Cabarete we visited and served at a community center/Montessori-inspired school called the Dream Center School, and we also visited Inspire, an after school and year round STEAM/Shop/Culture/Values program for boys 18-25 years old. Here are some photos of Dream Center and our on site, hands-on beautification service projects. 
Our take aways, amens, and epiphanies are many and varied. With the school sites, the after school social organizations, the community library, and their integration and interdependence to supplement and in some cases supplant the overall social-educational systems in place, we saw firsthand how EF works with value and mission driven local organizations and groups so our students can be part of something much larger than their typical education/school experiences. We adults were highly moved and  affected by our service, the informational briefings, and the reflections We got to experience what our students will go through. The Dream School Center allowed us to see how a private school interacts with the public school system.
We saw how early childhood education up through grammar school is organized in very similar fashions to our US educational system. Montessori philosophy is popular in many settings around the world. The Dream Center shares a STEAM classroom with the local public school.
The Dream library is a community library, they have a "book mobile" as well and their outreach is community-wide, not just for the students in the school or special programs. Their Bachata sister academy for older youth (High school ages) demonstrated some Bachata music in an impressive display of musical talent!  As the photos show, we helped them with requested beautification projects and functional projects designating space for motorcycle parking, movement of a recycling and trash receptacle to the back of the grounds, as well as touch up painting throughout the classrooms.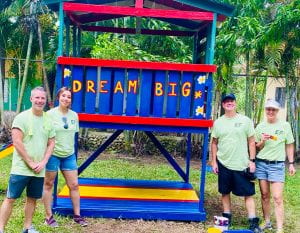 The service elements, similar to what our students will experience, showed us that a group of people may start as strangers, yet they emerge as friends in part due to the opportunities that forge authentic bonds. The problem solving, skills development, team work and overall satisfaction with jobs well done meant a lot to each and every one of us every day on this fantastic set of adventures.
We left the Dream Center feeling a sense of accomplishment and satisfaction and reward. We finished up our exploration and inquiry at an after school program for boys (though they are also adding girls programming) InspireDR – Free After-School Programs in Cabarete, Dominican Republic This private foundation "NGO" community based center offers swimming instruction, computer literacy, health education, wood shop, economics, a dojo for marshal arts, and more. We were truly inspired by the emphasis on technical life skills, problem solving, positive, moral, ethical, community focused learning and living. These boys and young men were learning English, swimming safety, and we were able to engage and interact with them on site. In addition, they teach public speaking and communications. This free (privately funded) community center has a waiting list of 90 students and they are serving as many as they can free of charge. This and so many of our new discoveries would each and all make great fund-raising, sponsorship, visit/exchange, education, and of course service projects for our own youth, Rotary and other civic organizations and other foundations.
We also ate lunch at Water to Wine, a water purification team — the opportunities to serve and make our world a better place seemed to be never-ending.
As I close the photo journal and documentary accounts of our incredible 2021 IASA Global Service Project, and as I again thank Dr. Polyak and our business partners, I'll share some final thoughts, reflections and comments. In North Shore School District 112, we are going to explore the possibilities we can create with our own local partners for a student trip and relationship moving forward. Inspire…Innovate…Engage – our aspirational motto — in action!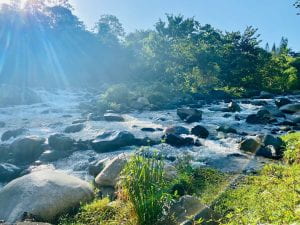 We had so many "to do" or "do now" opportunities. We had so much history and culture learning and education experiences. We were not blind to the irony of our service during the Indigenous People/Columbus Day observances (at home and in the DR). It was not lost on us that we were meeting in Columbus Park for our Santiago art/history walking tour.
We learned and lived and engaged and built lasting relationships in a relatively short period of time.
Our world is complex. Our work is complex. Our past is complex.
In order that we support and facilitate the support for teachers and students to create conditions for a sustainable and globally connected world, we must get out of our safe and small circle of our worlds at home and jump out of comfort zones and live, learn, do, think, be open minded to change, and to lead.
With experiences in the educational, social, cultural, artistic, political, geographic, environmental, and service genres (and more), I simply say Thank YOU to all who put in so much effort to create the spaces where we and I could enhance ourselves and our worlds.
Here's to the next time … truly we are all unfinished! Opportunities like this help us frame our paths to become the next versions of ourselves.
For nearly 30 years I have been serving public education and schooling in suburban Chicago, Illinois, USA. I've been a public school superintendent for 12 years (so far). Each year, each job/role, each child for whom I lead, each adult with whom I lead, each family I serve, each community I serve — each one enhances my sense of self and my body of work. My answer to the call of duty in an ongoing and unfinished, never ending cycle of service is to serve, to lead, to push myself and to make my wife, my children, and my community proud and respectful.
Post 2 of 2 – Global Service – Dominican Republic- IASA 2021