In the 2021-2022 school year, we chose to implement a robust planning and results-oriented project at both K-5 dual language (Spanish/English) schools in the District, Oak Terrace and Red Oak. Our main work has always been to create conditions that support student growth, learning, and teacher collective efficacy. In this post, I'm sharing some images that show graphically how incredible the student growth, learning, and performance was in this 10 week initiative last year.
The results focused approach, led by a team from strategic partner DMGroup (from Boston, MA), helps teams of leaders, teachers, and educational support staff refine their sense of urgency and target professional efforts to impact student growth and learning. We worked with DM Group on a number of challenging projects over the past few years (reopening in COVID, Student Services/EL audit, MTSS planning and implementation).
Firstly, in District 112, our motto is Inspire, Innovate, Engage; and we firmly believe each child can learn and grow – every day. We stand firmly for equitable access to educational opportunities for each child every day. We take pride in the excellence of our teachers, administrators, support staff, parents, and Board.
 When we learn how to do better – we do better. When we make a mistake, we own it – explain it – and learn from it (and take efforts not to repeat it). After the devastating impacts of the COVID global pandemic (on society, learning, social connection, etc.) we reached out to experts in strategic leadership to see how we could improve and enhance our impact on learning to help our students emerge successfully.
Student success and district success are measured in multiple ways.  Pleasesee a previous blog post to get a sense of how I measure "success" (culture, engagement, service, assessment, etc.). Search Results for "Measure succes" – Mike Lubelfeld's Blog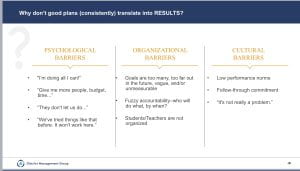 The point of working with the DMGroup on Breakthrough Teams comes from their motto: "Successful Change Programs Begin with Results". The focus of the initiative is to focus on results – not barriers; not challenges; not the "why nots;" not the "yea buts;" but results.  Let's make an impact.
 They acknowledge psychological, organizational and cultural (org. Culture) barriers such as: "I'm doing all I can;" "It's overwhelming;" "It's not MY problem;" etc… .  And then share a team of strategic consultants to support the existing organizational structures and  help guide questions to and for student learning/growth and teacher learning/growth to work around, through and over those barriers to ultimately bring them down.
The cool part about working with the DMGroup on Breakthrough teams is that we had the opportunity to take
existing structures (teacher team planning/group thinking time) student learning (using assessment tools), instructional coaching (District teacher leaders), administrative collaboration (co-designing and considering solutions) all to help us do our work better.
The DMGroup Breakthrough Teams program is focused on 10 weeks of intense, targeted, focused planning, ideation, succeeding, failing, learning, and re-ideating. The District, the School and the Teams work together to make the best decisions with the information at hand in real time on behalf of the learning. It's an amazing professional experience – and, in D112, it yielded groundbreaking results for kids (and teachers) last year at Red Oak and Oak Terrace Schools.
We focused on our dual language schools with multi-lingual students in the District's historic and long running magnet/choice instructional program. English Learners in the District have traditionally had challenging performance on standardized assessments, and the focus on their learning and needs, first, with this innovative program, proved that every child (regardless of "box to check") can learn and grow in the proper conditions. We helped our teachers create the proper conditions and focus, and we co-created professional planning space to establish a results orientation.  And the results justify and support this effort.
As mentioned, in this post, I'm sharing some slides that show graphically how incredible the student growth, learning, and performance was in this 10 week initiative last year.
On April 11, at an upcoming school Board meeting, I will share a detailed presentation with two of my colleagues, Lilli Melamed (Principal at Oak Terrace School) and Colleen Goodrich (Associate Principal at Red Oak School last year and Wayne Thomas school this year).
 In June, we'll share this year's results from this year's Breakthrough Teams experience at the five K-5 schools with traditional (English only) education, in grades kindergarten, first grade, and second grade.
Thanks for reading the blog! Check out the podcast, our upcoming board meetings, and general District communications as we share our journey of leadership, experiences, learning, growth, and results oriented focus.

What are DMGroup Breakthrough Teams Results in D112? #112Leads