This is another in a series of reflections from my engagement in the National Superintendents Roundtable national conference in Los Angeles, California, in July 2023. We focused on Forty Years since A Nation at Risk: What Have We Learned. In this third post in the series, I share reflections from another person in the mix and at the tables in 1983. Christopher Cross, former assistant secretary of education (among other notable accomplishments), shared enlightening insights about this report, the
politics of the time, and much more! In order for us to best contemplate What We Learned and where we go from here, it's incumbent upon us leaders to learn from the sources at the time! Chris did not disappoint; just like Jim Harvey, his insights were exceptional. Complemented by Audrey Amrein-Beardsley's recap of history over the past few decades, the learning and convening at the National Superintendents Roundtable was nothing less than exceptional.
During our time, we also toured the President Ronald Reagan Presidential Library & Museum – wow is all I can say – it was a true treat. After I share reflections and notes from Christopher Cross, I share a collection of images from the Libary & Museum tour.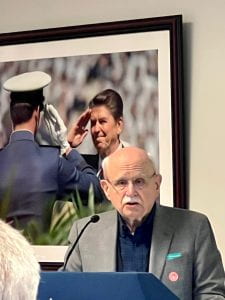 Cross was there when the US Department of Health, Education, & Welfare (HEW) split up to form the new US Department of Education. In the US, Cross shared, there actually was a US Department of Education briefly in 1860, then it folded into the US Department of the Interior, and in the 1950s, education went into HEW until the 1976 presidential election, where Jimmy Carter created the US Department of Education. Carter also received the National Education Association's (NEA) 1st ever endorsement for the presidency. These were chaotic times in the US – Vietnam War, Watergate, Energy Crisis, Economy, and more. Carter created the US Department of Energy, and he also created the US Department of Education. In 1980, Ronald Reagan was elected president, and part of his platform was to abolish the US Department of Education. Instead, the commission he created wrote "A Nation at Risk," … and here we are 40 years later.
Cross shared how the Secretary of Education, Terrell "Ted" Bell, got education into the national spotlight. This was a cry for reform, a cry for greater finance for education, and a cry to get attention for education in general. There were concerns about the quality of the nation's educators, the teaching force, and the preparation at the nation's education colleges, and there were no aligned standards or state reporting systems at that time. Cross was the assistant secretary of education, and the NCES, the National Center for Education Statistics, was under his supervision at that time. Prior to what was called the "Wall Chart," the only data nationally reviewed was SAT and ACT data. Per Cross, with this renewed focus on multiple data points, states could no longer hide from dealing with the issues that were typically hidden (poor student performance in various groups, gaps, etc.). Please note that this report was only 8 years after Public Law 94-142 was put into place, making it the law of the land to educate children with disabilities. Cross called for us convened together to put forth a clarion call for a new commission. Forty years after the publication of A Nation at Risk, it's time for us to reflect on the learnings at scale and focus forward.
Many of the issues we face today in 2023 include:
COVID learning losses/interruptions in learning
Racial achievement gaps
Local Control Issues
Views against liberal arts & higher education (teacher shortage)
Actual enrollment declines
Reliance (over-reliance) on local property taxes for funding
Khan Academy and all that it represents – free access for all 24/7
A I and the tidal waves related to this
Adequate measures of quality indicators or lack thereof
And a whole lot more …
Cross and Harvey are GOLD STANDARD American historians, political people, and scholars! Their perspectives were off-the-charts impactful. Their candor, humor, reflections, recollections, and calls to action were superb.
Cross allowed us to hold discussions on the framework of education itself, reform or advancement from the past forty years, legislative advocacy and partnership needs, contemplation for creating a new task force, commission, redefinition of the purpose of public education, and more. Representing California, Illinois, Ohio, Indiana, Texas, Michigan, Pennsylvania, Maryland, New York, Colorado, Arizona, and the District of Columbia (and all points in between), we had deep discussions and reflections on the multitude of lessons learned since A Nation at Risk was published.
In the next post, the final one from this series and this conference, I'll make final reflections, recap some other major reforms sparked by this 1983 publication, and look toward the future of education here in District 112 and beyond!
Below I share a collection of images from the Ronald Reagan Presidential Libary & Museum tour
Part 3 of 4- Reflections from National Conference about 40 Years since A Nation at Risk