There is no comfort in the growth zone – but there is no growth in the comfort zone – this was a quote shared with us at the start of the National Superintendent Roundtable national convening in the summer 2023 conference in Los Angeles, California.
Nearly 40 of us convened to remember the education "reform" document and call to action called A Nation at Risk, and to contemplate the 40 years since – where we have been, where we are, and most important, where we are going!
With powerful presentations (some excerpted and summarized here in the blog and in subsequent posts) and with a visit to the President Ronald Reagan national presidential library & museum in Simi Valley (shared via images in the blog), the convening was awesome! Great dialogue, great, courageous conversations and questions and recollections, civil discourse with folks who have differing political views, and a whole lot more took place in our compact, concise, and short but powerful conference.
Often, people ask me, "What do I do as a superintendent" Part of the purpose of this blog is for me to illustrate just that. What "do" I do? 🙂 – A LOT … The role is diverse and rewarding, the opportunities to develop leaders are the most powerful and impacting legacy, and the power and honor to share and extend HOPE is a true gift.
In this blog post, I reflect on, share, and describe superintendent professional development. Leadership convening at a high level. History, politics, government, sociology, education, journalism, and more are covered in this experience and blog post.
40 years ago, A Nation at Risk was presented to the nation. It was a flawed report (as I will share), but it did raise PK-12 education to the forefront as a presidential issue – which can be a good thing. It started a four-decade pathway towards educational "reforms" and an obsession with standardized testing that we still grapple with today.
So …. What do I do?
I learn I gather with national and global experts, I engage in dialogue to make my thoughts known and clearer, and when challenged with new ideas, I may change my
mind! I am a leader and a learner, and a lead learner. My attendance at and participation in professional development is part of what I do as a superintendent of schools. Each day I aim to be better, do better, and lead better for the thousands of students and staff, and community members I have the honor of serving.
40 Years Since a Nation at Risk … What have we learned … I will be sharing thoughts from the many pages of notes I took during our amazing and challenging presentations as well as during our incredible visit and guided tour at the President Ronald Reagan Presidential Library & Museum. As a former social studies and US
History teacher, this was AMAZING. A whole bunch of peak moments were had during this short but powerful trip across the country!
The National Superintendent Roundtable (NSR) is a membership association of superintendents from around the USA. Currently, there are about 91 members nationwide. In partnership with its sister organization, the Schlecty Center, there are about 180 superintendents in total between the two organizations. Both are mission-driven to support leadership and growth.  We are all in favor of and stand by "Strong families, strong communities, with strong schools" as a mantra or "calling card." We're here to honor the 40th anniversary of A Nation at Risk and truly digest and dissect – what we have learned and where we are going.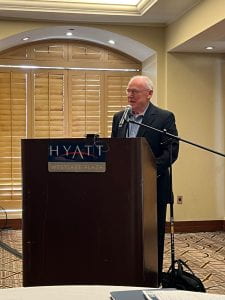 Our keynote presenter, Jim Harvey, founder of the NSR and one of the writers of A Nation at Risk was outstanding!! Jim reminded us all that public education is one of the major foundations of the United States society. Supporting American ideals and progress is our mission. Jim also reminded us of President Reagan's inaugural address in 1980, where he stated that essentially, "…government is the problem.". President Reagan ran on a platform that included eliminating the US Department of Education. His first Secretary was Terrell, Ted, and Bell.
Subsequent blog posts will detail more of the content and "What do we do now?".
Part 1 of 4 – Forty Years Since "A Nation at Risk" – Education Reflections